Builders and Trade Skip Bin Hire
Builders and Trade Skip Bin Hire
A Warm Welcome to Our Builders, Landscapers, Concreters, Bricklayers and Trade Customers.
Need A Skip Now has been servicing Melbourne's Builders and Trade since 2011, hence forming strong working relationships with our customers, seeing them grow, change and evolve. Majority of our Construction Industry customers are small to medium size builders, with an average number of 2-6 building sites going at the same time. We will deliver skip bins to any Melbourne suburbs, where our customers have a project, even if the suburb is beyond 50km radius from our depot.
We understand that our Building and Trade customers value:
Priority of their service
Ease of communication and contacting us
Seamless bin ordering, swap over and pickup process
Timely billing
Organising of council permits and liaising with your site contacts
We also believe that our builders and trades are looking for:
The best priced skip bins, with no hidden charges
We understand that all of your projects are different and some bins are required to be on site for a very long time, while other bins need to be filled on a spot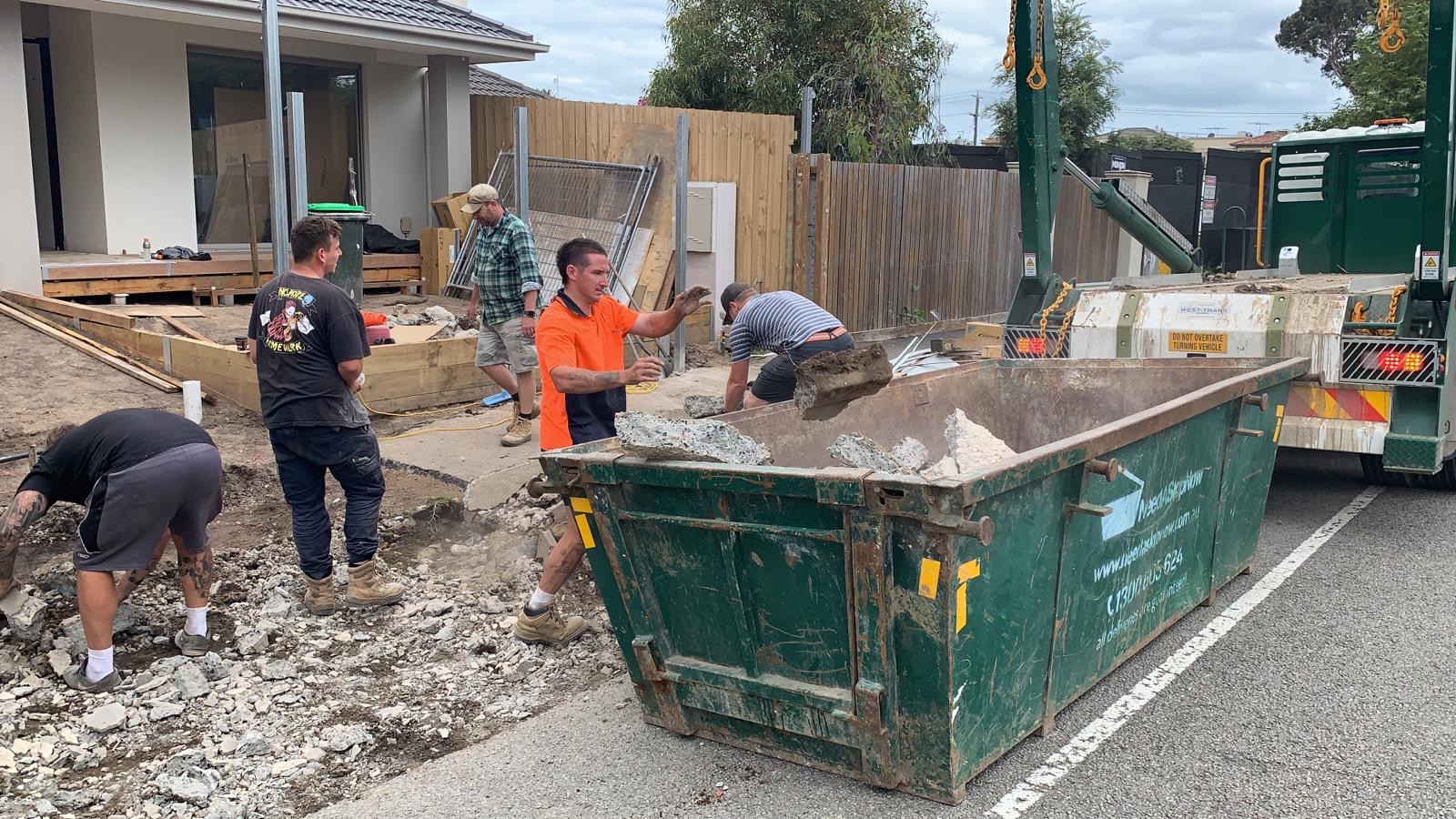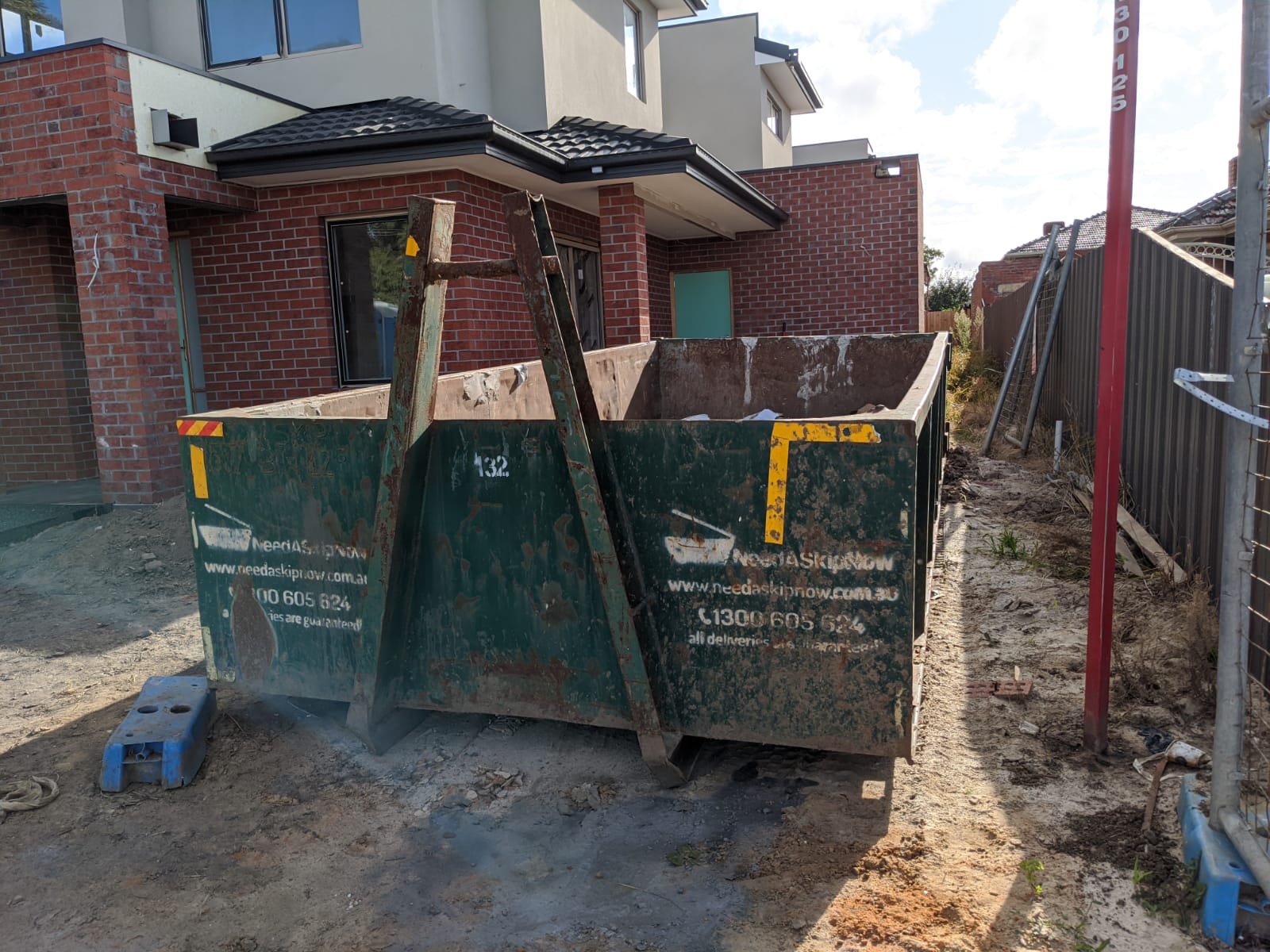 Need A Skip Now Can Add The Following Value to Your Projects
Priority Bin Deliveries to Your site
Office Open from 7am for any Support
Long Term Bin Hire Available at no Extra Cost
Same Day Bin Hire
Wait and Load Options
Discounted Prices on Recyclable Waste Skip Bins
Heavy bins up to 12 cubic meters with no extra charges for weight
Best Priced Skip Bins for your Projects
We Know Your Site Contacts By Name
Trade Accounts Available
All Council Permits Organised on the Spot
Excavation Services
Site Levelling Servicing
Basement Excavation
Demolition of up to 2 Storey Residential Dwellings
Your Building Site Waste is Taken Directly to our Waste Transfer Station and Properly Recycled
Waste Reports For Your Projects
Construction Waste Management
With increased regulations from the EPA from July 2021, there is a significant emphasis on correct classification of all waste types and proper disposal through lawful channels.
Whether you are a builder, working on a multiple number of projects or an owner builder or a DIY renovator of your own house, most likely your waste will be classified by the EPA as a Construction and Demolition Waste.
Construction and Demolition (C and D) activities, generate a range of waste materials, including but not limited to:
Excavated materials, such as rock and soil
Waste Asphalt, concrete, bricks, timber, green waste, plasterboard
Asbestos and Contaminated Soil (which we don't accept in skip bins)
To ensure that we assist you to clear your building site from C and D waste on time and on budget, we recommend:
Communicate with us about various waste streams you have on your side
Classify all Waste Going into any Skip Bin, so that we can determine the most competitive price for your waste
Provide sufficient notice for your Bin Deliveries and Pickups to ensure we work according to your schedule and all bins are delivered on time
Why Choose Need a Skip Now as Your Skip Bin Supplier
Easy Bin Bookings either via Phone, Online via our Website or via Email
Transparent Up-front Pricing for Bins, no extra charge for Heavy Bins, no surprises on a pickup
On-Time Deliveries to Your Site
On Going Communication with your site contact, keeping them updated re ETA and discussing best bin placements for your team
Unparalleled Customer Service, we answer your messages even beyond our office closing times, contactable not only by phone and email but also via Social Media
Complete compliance with your Waste Duties by dealing with an approved and a fully licensed supplier and waste recycler
If you'd like to discuss your current or upcoming project – let's have a chat with our Waste Management Expert